Wrist pain is one of the common ailment among most of the people. Sprain, fractures and sudden injuries from motor accidents etc. are the main causes of wrist pain. There are certain long-term health conditions like arthritis, repetitive stress and carpal tunnel syndrome etc which may also cause wrist pain. It is important to diagnose the exact cause as wrist pain can occur due to various reasons.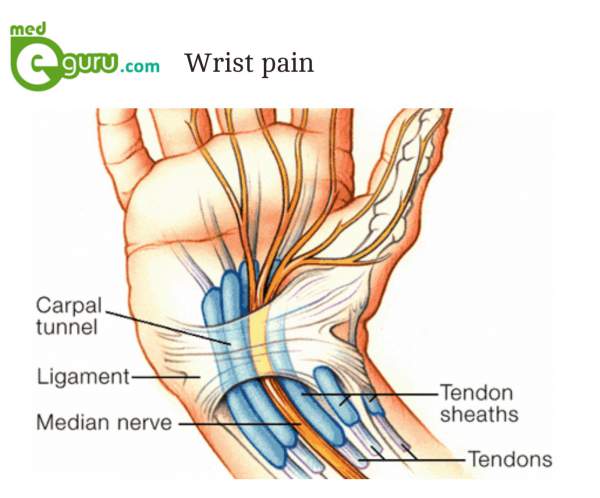 What are the causes of wrist pain?
The wrist is a complex joint, which is made up of eight small bones. The wrist bones are connected each other and to the hand bones and forearm bones with the help of tough bands of ligament. Tendons attach the muscles to the bones. Damage to any of these linking parts can cause wrist pain and various other difficulties. Other causes include:
What are the Symptoms of wrist pain?
Pain is the major symptom of the condition. However, the pain may vary according to the cause. Wrist pain caused by osteoarthritis is described as similar to that of a dull toothache. The patient will experience a pins-and-needles feeling if the wrist pain is caused due to carpal tunnel syndrome.
Apart from physical examination, the doctor will also suggest imaging tests, arthroscopy and nerve tests if required.
If the imaging tests are not satisfactory, the doctor may suggest for an arthroscopy. Arthroscope is a thin instrument which can insert into the wrist through a tiny incision. The camera inside the device will capture the clear images of the wrist and project it on the connected screen outside. An arthroscopy will give a detailed picture of the condition.
Electromyogram is the test suggested to diagnose carpal tunnel syndrome.
What are the Treatments for wrist pain?
Depending on the severity, type and location of the injury and the age of the patient, the doctor will choose the right one from the various treatment options. There are:
Medication- Pain relievers to ease pain

Therapy- Exercises, physical therapies.

Surgery- Surgery is required in rare cases such:
If the bones are severely broken

If wrist pain is caused due to carpal tunnel syndrome

If the tendon or ligament is damaged and requires repair.
Orthopedic Solutions from our Doctors and Hospitals

Wrist Pain Doctors in DelhiWrist Pain Doctors in ChennaiWrist Pain Doctors in PuneWrist Pain Doctors in MumbaiWrist Pain Doctors in BangaloreWrist Pain Doctors in KolkataWrist Pain Doctors in HyderabadWrist Pain Doctors in AhmedabadWrist Pain Doctors in SuratWrist Pain Doctors in Kochi