What is total elbow replacement?
Total elbow replacement is a less common replacement surgery. A total elbow joint replacement  is done to relieve the pain and discomforts of the elbow joint. The elbow joint is made of three bones:
The upper bone or humerus
The forearm bone on the pinky finger side or the ulna
The forearm bone on the thumb side or the radius
Any damage to the humerus or ulna may lead to severe pain and difficulties. A total elbow replacement is suggested in such situations.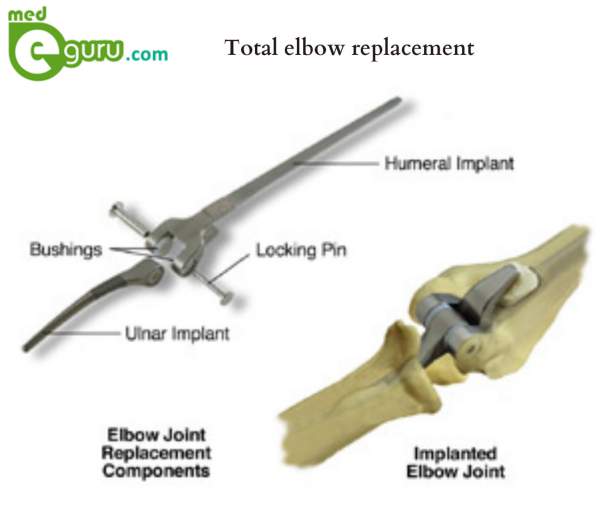 What are the causes for total elbow joint replacement surgery?
There are several conditions which may lead to pain and other discomforts. Some of them include:
Osteoarthritis
Rheumatoid arthritis
Instability
Severe fracture
How is the total elbow replacement surgery done?
The patient will be under anesthesia during the surgery. To start with, the surgeon will first make an incision on the back of the elbow. It is done to reach the elbow joint. To get access to the bone, the surgeon will slowly move the muscles aside. The doctor will then remove the spurs and scar tissue around the joint. The surgeon will prepare the humerus for the metallic replacement for the damaged joint part. Ulna is also prepared for the same. Using a bone cement, the surgeon will place the replacement stem into the ulna and humerus bones. A hinge pin is used to connect the two stems. After completing these steps, the wound is closed with sutures.
What about the recovery?
To prevent infection and other discomforts during the recovery period, the doctor will prescribe some medications. The patient may need to stay at the hospital for 2-4 days after the surgery. The surgeon will also suggest a well-planned rehabilitation program, which is necessary for a successful replacement surgery.
What are the complications of total elbow replacement surgery?
Some of the potential risks and complications include:
Infection
Nerve injury
Blood clots
Wound healing problems
Implant problems
Orthopedic Solutions from our Doctors and Hospitals

Total Elbow Replacement Surgeons in DelhiTotal Elbow Replacement Surgeons in ChennaiTotal Elbow Replacement Surgeons in PuneTotal Elbow Replacement Surgeons in MumbaiTotal Elbow Replacement Surgeons in BangaloreTotal Elbow Replacement Surgeons in KolkataTotal Elbow Replacement Surgeons in HyderabadTotal Elbow Replacement Surgeons in AhmedabadTotal Elbow Replacement Surgeons in SuratTotal Elbow Replacement Surgeons in Kochi