What is total ankle replacement surgery?
Total ankle replacement surgery is also known as total ankle arthroplasty. It is a surgical treatment option for ankle arthritis. Normal wear and tear and other conditions may cause arthritis of the ankle. It may cause a break in the ankle joint or dislocation. Arthritis of the ankle finally leads to loss of cartilage, pain, and deformity. The main aim of the procedure is to improve the ankle movement and decrease the pain.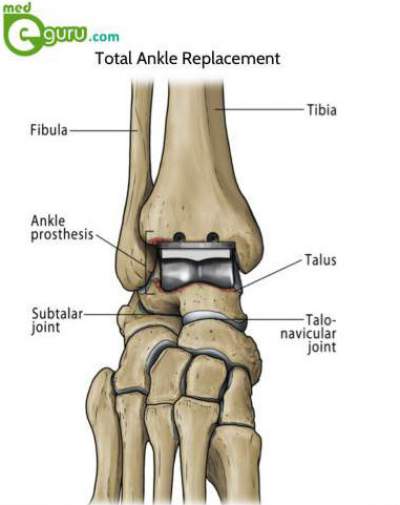 Who can be a candidate for the total ankle replacement surgery?
People who suffer from ankle pain and limited ankle movements caused by arthritis are considered for total ankle joint replacement surgery. One who has failed to recover after trying all the other treatment options is mainly chosen for ankle replacement. Patients of rheumatoid arthritis  are considered good candidate for ankle replacement. Patients with the following issues are not suitable for the surgery:
Dead bone in the talus
Any significant deformity
Ankle infections
Having significant lower extremity neuropathy
Decreased or absent leg muscle function
Poor blood flow of the leg
Inadequate soft tissues
What is ankle fusion surgery?
In this procedure, the surgeon repairs the damaged bones for improved functioning. The procedure relieves ankle joint pain and improves its function. It is done by hardening the ends of the damaged bones and fix them together with the help of screws and metal plates. It is not suitable for patients with severe ankle joint damage.
How is total ankle replacement surgery done?
The procedure is performed under a general anesthesia. According to the type of implant used for the surgery, the surgeon may approach the ankle from the front or the side. To recreate the ankle joint, metal and plastic components are used. It is placed in the position by cutting the bone. If the patient has a tight calf muscle or Achilles tendon, it needs to be lengthened in order to improve the mobility of the ankle. After that, the wounds will be closed using sutures or staples. A splint will be also be applied. To allow the implants to heal, a cast or cast boot may be required.
What are the potential complications and risks of the procedure?
Any surgery will bear certain risks and complications. Some of them include:
Anesthetic risks
Infection
Nerve damage
Damage to blood vessels
Bleeding
Blood clots
Fracture of the bone
Injury to tendons
What about the recovery after total ankle arthroplasty?
After the surgery, the patient may need to avoid strenuous physical activities. To control the swelling and for improved healing, the patient may require strict elevation. Gentle rang-of-motion activities are suggested after healing the wound.
Orthopedic Solutions from our Doctors and Hospitals

Total Ankle Replacement Doctors in DelhiTotal Ankle Replacement Doctors in ChennaiTotal Ankle Replacement Doctors in PuneTotal Ankle Replacement Doctors in MumbaiTotal Ankle Replacement Doctors in BangaloreTotal Ankle Replacement Doctors in KolkataTotal Ankle Replacement Doctors in HyderabadTotal Ankle Replacement Doctors in KochiTotal Ankle Replacement Doctors in AhmedabadTotal Ankle Replacement Doctors in Surat