What is total shoulder replacement?
Total shoulder joint replacement is the treatment option for joint dysfunction. Total shoulder replacement surgery is suggested for those who had a severe shoulder joint damage due to osteoarthritis, rheumatoid arthritis or any serious injury. When all other treatments fail to correct the damage, the doctor will suggest a surgery. Shoulder joint replacement surgery is also known as shoulder arthroplasty.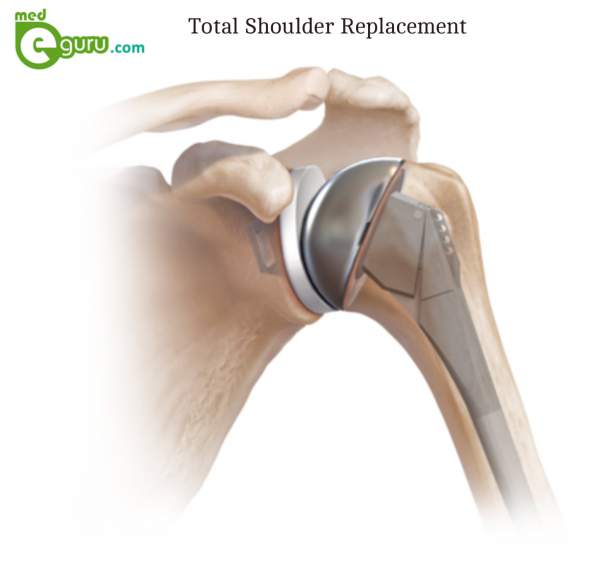 Why total shoulder replacement surgery?
There are several conditions which may cause shoulder pain and other discomforts. When all the other treatment methods fail to achieve results, the doctor may suggest a replacement surgery. Some of the conditions that lead to shoulder joint replacement surgery include:
Degenerative joint disease or osteoarthritis
Rheumatoid arthritis
Rotator Cuff Tear Arthroplasty
Avascular necrosis
Failed previous shoulder replacement surgery
Who can be a candidate for shoulder replacement surgery?
Candidates with the following issues are usually considered for shoulder arthroplasty:
Severe shoulder pain that prevent daily activities.
Pain even while resting.
Weakness or stiffness in the shoulder.
The pain and other difficulties do not go away with other treatment methods.
How is shoulder replacement surgery performed?
Anesthesia is given before starting the surgery procedure. The surgery will take around two hours of time to complete. An incision 6" is made on the front of the shoulder to reach the surgical area. The damaged bone is removed from the upper arm bone. A plastic liner is cemented into the socket of the shoulder which is already prepared by the surgeon before. After that, a metal ball with a stem is placed down the arm bone. After repairing the rotator cuff muscles, the incision will be closed by the surgeon.
What are the complications of total shoulder replacement surgery?
Total shoulder replacement surgery is a complex procedure. As a major surgery, it requires more care and concern. Anesthetic risks are most common possible risks of shoulder replacement arthroplasty. Some of the other complications include:
Infection
Blood clots
Dislocation
Nerve damage
Stiffness
Misalignment
What about the recovery after shoulder replacement surgery procedure?
You may need to stay at the hospital after the surgery for a few days. During the hospital stay, the doctor may suggest some medication and physical therapy to ease the discomforts during recovery. After the hospital stay, the patient will be able to go home. The doctor will give instructions to take care during the recovery period at home.
Orthopedic Solutions from our Doctors and Hospitals

Total Shoulder Replacement Doctors in DelhiTotal Shoulder Replacement Doctors in ChennaiTotal Shoulder Replacement Doctors in PuneTotal Shoulder Replacement Doctors in MumbaiTotal Shoulder Replacement Doctors in BangaloreTotal Shoulder Replacement Doctors in KolkataTotal Shoulder Replacement Doctors in HyderabadTotal Shoulder Replacement Doctors in KochiTotal Shoulder Replacement Doctors in AhmedabadTotal Shoulder Replacement Doctors in Surat