What is gout?
In simple terms, gout is a severe form of arthritis which may affect any person. The condition is characterized by tenderness and redness in joints, severe and sudden attacks of pain etc. Gout attacks are usually sudden and annoying. It may even occur at the middle of the night during sleep. The affected joint will become tender and swollen. Gout can be treated successfully with proper medical care and can reduce the risk for recurrence.
What are the symptoms of gout?
The signs and symptoms occur suddenly and without warning. Signs and symptoms of gout may include:
Intense pain in the joint

Deep-rooted and continuous discomfort

Redness

Inflammation

Limited range of motion
Patient with these symptoms should seek immediate medical care. Untreated gout can damage the joint and lead to severe pain.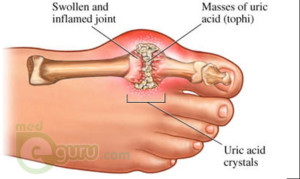 What are the causes of gout?
Accumulation of urate crystals in the joint is the main cause for gout. Urate crystals accumulation causes inflammation and intense pain. High levels of uric acid in the blood is the main reason for urate crystal accumulation.
How is gout diagnosed?
Various tests are done to diagnose the condition. Some of them include:
X-ray

Blood test

Dual energy CT scan

Ultrasound

Joint fluid test
How the condition is treated?
Medication is the main mode of treatment for gout. The doctor will decide on what medication should be prescribed based on the health condition of the patient. Medications can be aimed at various goals. Some are to treat acute gout attacks, and some to reduce the risks and complications of the condition. Some medications are used to prevent the recurrence of gout.
Medications to treat gout attacks include:
Nonsteroidal anti-inflammatory drugs

Corticosteroids

Colchicine
Medications to prevent gout complications and risks include:
Medicines that block uric acid production

Medicine to improve the uric acid removal.
Orthopedic Solutions from our Doctors and Hospitals

Gouty Arthritis Doctors in DelhiGouty Arthritis Doctors in ChennaiGouty Arthritis Doctors in PuneGouty Arthritis Doctors in MumbaiGouty Arthritis Doctors in BangaloreGouty Arthritis Doctors in KolkataGouty Arthritis Doctors in HyderabadGouty Arthritis Doctors in KochiGouty Arthritis Doctors in AhmedabadGouty Arthritis Doctors in Surat