What is partial shoulder replacement?
Partial shoulder replacement or shoulder hemiarthroplasty is the surgical procedure of replacing the damaged part of the shoulder with a prosthetic. Usually, humerus or the arm bone is replaced in shoulder hemiarthroplasty. A metal implant is used as the prosthetic. When the humerus is replaced, the other part of the shoulder called the glenoid is left unharmed. Shoulder hemiarthroplasty is of two types-
Resurfacing hemiarthroplasty: In this procedure, the joint surface of the humeral head is replaced using a cap-like prosthesis. This procedure preserves bone and component wear and loosening risks of total shoulder replacement can be avoided.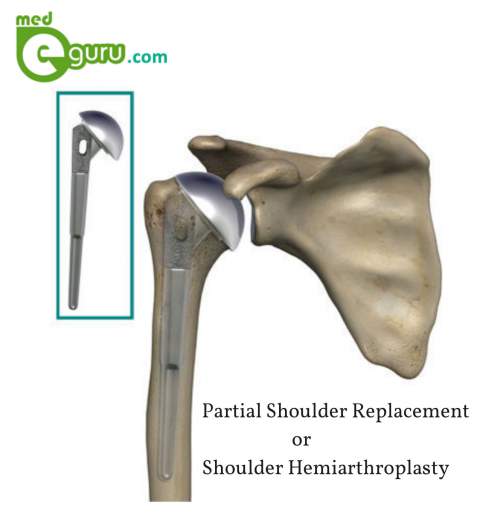 Stemmed hemiarthroplasty: This procedure uses a metal ball and stems to replace the head of the humerus. It is recommended in patients with severe damage to the humeral head.
Who can be a candidate for partial shoulder replacement surgery?
When the shoulder pain gets severe and limits patient's daily activities, a partial shoulder replacement surgery may be suggested. It is recommended only when all the other non-surgical methods fail to alleviate the pain. It may also be considered when total replacement surgery risks occur after years.
What are the advantages of partial replacement surgery?
After a shoulder hemiarthroplasty, the patient can experience:
Decreased/no shoulder pain
Improved motion
Improved strength
Improved functioning
Less invasive when compared to total shoulder replacement surgery
Fewer risks and complications
How is the surgery performed?
The surgery is done under anesthesia. After making an incision at the front of the shoulder joint, the stem of the implant will be inserted to arm bone. It may either be cemented or wedged tightly. When the implant is placed rightly, the surgeon will close the incision with sutures.
What are the risks and complications of the surgery?
Risks are very few for partial shoulder replacement surgery. Some of the common risks and complications include:
Infection
Blood clot
Shoulder dislocation
Nerve injury
Persistent pain
What about the recovery?
For the success of partial shoulder replacement surgery, a well-planned rehabilitation schedule is necessary. The doctor may recommend the patient to wear a sling for three-four weeks. Gentle physical therapy can begin right after the surgery. It will help to restore the motion and functioning of the shoulder joint. A complete recovery may require several months of time. But, it may vary according to different aspects.
Orthopedic Solutions from our Doctors and Hospitals

Partial Shoulder Replacement Doctors in DelhiPartial Shoulder Replacement Doctors in ChennaiPartial Shoulder Replacement Doctors in PunePartial Shoulder Replacement Doctors in MumbaiPartial Shoulder Replacement Doctors in BangalorePartial Shoulder Replacement Doctors in KolkataPartial Shoulder Replacement Doctors in HyderabadPartial Shoulder Replacement Doctors in KochiPartial Shoulder Replacement Doctors in AhmedabadPartial Shoulder Replacement Doctors in Surat