What is Arm Pain?
Any pain or discomfort in the arm is referred to as arm pain. The arms are made up of muscles, tendons, bones, joints, ligaments, blood vesseld and nerves. Nerve conditions and accidental trauma usually contribute to arm pain. A pain that originate from another part of the body and spreads to the arms are called referred arm pain.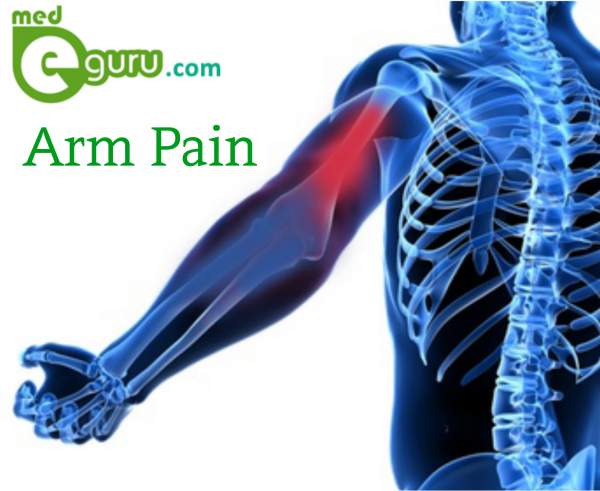 What are the symptoms of arm pain?
Symptoms of arm pain are:
Ching pain

Prickling

Pain like pins and needles

Burning

Stiffness
Swelling

Shoulder, neck or back pain

Numbness

Muscle spasms

Skin bumps

Reduced elbow movement
What are the symptoms of arm pain?
There are lot of issues which may cause arm pain. Joint injuries, compressed nerves etc, are some of the major causes of arm pain. Arm pain can develop all of a sudden and dissolve within sometime. It all depends on the cause of the condition. Problems in the upper spine and neck can also cause arm pain. Arm pain can be a sign of heart attack, if it spreads to the left arm. The causes of arm pain can be classified into:
Infection-related causes for Arm pain
Various infections like these can lead to arm pain:
Infectious arthritis or septic arthritis

Cellulitis

Infected wond or sore

Bone infection or Osteomyelitis
Injury-related causes for Arm pain
Injuries or fractures in certain parts of the body may also lead to arm pain:
Dislocated elbow

Contusion or laceration

Broken bone or stress fracture

Torn or pulled muscle

Growth plate fracture

Injury to the shoulder, neck and arm
Inflammatory, degenerative and neurological-related causes for Arm pain
Peripheral neuropathy

Cervial spondylosis

Bursitis

Herniated disc in the neck
Other Causes for Arm pain

Hear attack

Bone tumor

Cancer

Complex regional pain syndrome
How is arm pain diagnosed?
The doctor will check previous medical history of the patient. He/she will also have a physical examinations to check for the symptoms. If the pain is injury-related, the doctor will suggest for imaging tests such as:
MRI

CT

X-ray and

Ultrasound
What are the non-surgical treatments for arm pain?
To fix a treatment, it is necessary to determine the underlying condition that causes arm pain. Treatment will be based on the severity and cause of arm pain. Rest is the main treatment option suggested for mild cases of arm pain. Pain relievers and medications are also prescribed in some cases. If the condition is severe and does not get reduced, it is important to visit the doctor immediately.
Orthopedic Solutions from our Doctors and Hospitals

Arm Pain Doctors in DelhiArm Pain Doctors in ChennaiArm Pain Doctors in PuneArm Pain Doctors in MumbaiArm Pain Doctors in BangaloreArm Pain Doctors in KolkataArm Pain Doctors in HyderabadArm Pain Doctors in AhmedabadArm Pain Doctors in SuratArm Pain Doctors in Kochi