What are ceramic type implants?
Medical devices used to restore movements and relieve pain associated with arthritis and other conditions are known as hip implants. Ceramic type implants are one among the different types of hip implants. Ceramic implants are used for hip replacement. Ceramic type implant is one of the latest hip implants, which has been introduced during the 21st century. Ceramic type hip implants are known for its hardness and durability. It does not have any toxic or side effects. It is less prone to damages. There are two types of ceramic hip implants- Ceramic-on-ceramic (CoC) implants and Ceramic-on-Plastic (UHMWPE).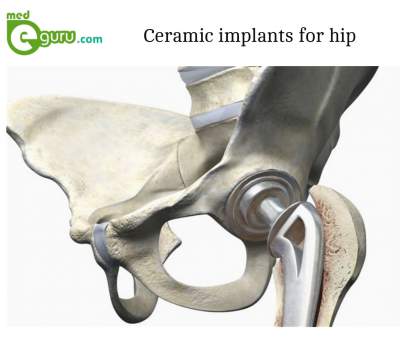 What are ceramic-on-ceramic implants?
All ceramic or ceramic-on-ceramic hip implants are known for its longevity and reliability. A high-strength ceramic bearing implant is called ceramic-on-ceramic implants. It is considered a better option when comparing the other types of implants such as metal-on-metal and metal-on-plastic implants. These implants will not drain ions or particles into the nearby tissues. As made of the hardest material, ceramic-on-ceramic implants have less wear and tear when compared to the other implants. Ceramic implants can mould into any size or shape. It is often suggested for younger patients. Ceramic implants may squeak when making movements. Heavy fall or significant  trauma can break ceramic-on-ceramic implants.
What is ceramic-on-plastic hip implants?
These implants make use of two materials- Ultra High Molecular Weight PolyEthylene (UHMWPE) and ceramic. The acetabulum is constructed using the UHMWPE material and femoral head, using the ceramic material. These implants are said to have low erosion rate. This type of implants is more expensive when compared to that of the meta-on-metal and metal-on-plastic implants. Including the antioxidant molecules in these implants will help to control the unwanted response from the immune system.
What are the risks and complications of using ceramic hip implants for hip replacement surgery?
It is true that, ceramic hip implants are advantageous when compared to that of the other implants. However, everything has its pros and cons. Some of the disadvantages of ceramic hip replacements are:
Risk of fracture
The ceramic cup liner is prone to chipping
Improper positioning of components may cause damage
What is ceramic hip replacement surgery?
Ceramic hip replacement surgery is resurfacing the damaged hip using ceramic implants. The procedure is same as traditional hip replacement surgery. The difference is that, the material used to replace the hip is ceramics.
What are the complications of ceramic hip joint replacement surgery?
The surgery is a complex process and it seeks an expert orthopedic surgeon. Otherwise, there can be complications and risks. If not done carefully, the surgery may become unsuccessful and the patient may require a revision surgery.
Orthopedic Solutions from our Doctors and Hospitals

Ceramic Type Hip Implants Doctors in DelhiCeramic Type Hip Implants Doctors in ChennaiCeramic Type Hip Implants Doctors in PuneCeramic Type Hip Implants Doctors in MumbaiCeramic Type Hip Implants Doctors in BangaloreCeramic Type Hip Implants Doctors in KolkataCeramic Type Hip Implants Doctors in HyderabadCeramic Type Hip Implants Doctors in KochiCeramic Type Hip Implants Doctors in AhmedabadCeramic Type Hip Implants Doctors in Surat