What is Achilles Tendinitis ?
Achilles is the tendon that connects calf muscle to the heel. This is the largest tendon in human body and is put into use when you walk, run and in similar activities. Though this tendon can withstand heavy stress, overuse and sports injuries can cause damage to this tendon resulting in pain and swelling.
Tendinitis simply means inflammation of a tendon. Inflammation of achilles tendon occurring at the attaching (insertion) portion of the tendon to the heal bone is known as insertional achilles tendinitis. When fibers of the middle portion of the tendon break then it is known as non insertional achilles tendinitis. Tendons in both the above tendinitis may harden. Bone spurs may occur in insertional achilles tendinitis.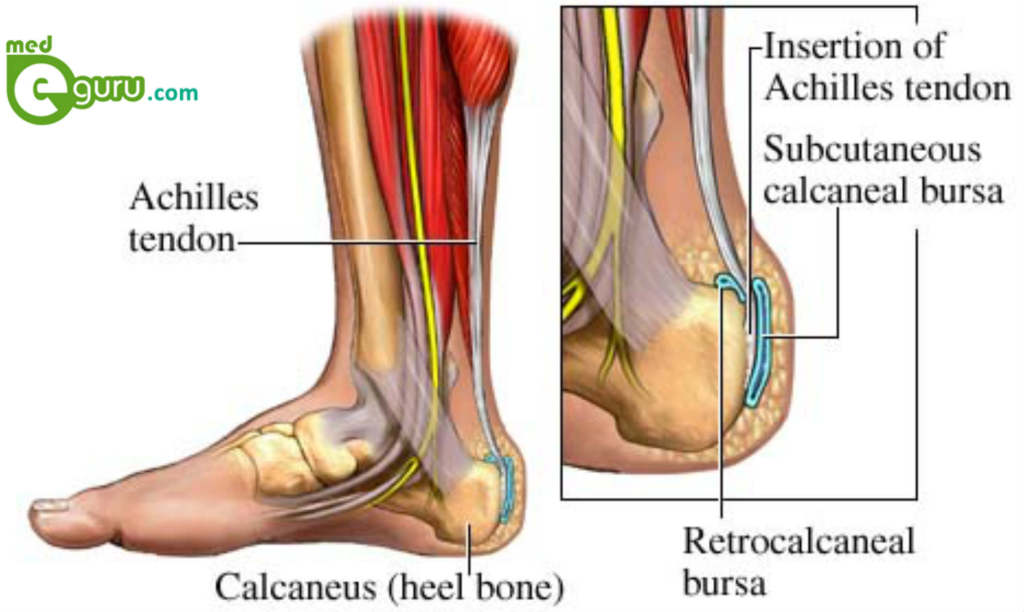 What are the signs and symptoms of Achilles Tendinitis?
Pain and stiffness is noticed during daytime which increases during activity and severe pain after the day of doing some exercises are common symptoms of achilles tendinitis.
Thickening of the tendon and pain that gets worsened during activity is also an important symptom of achilles tendinitis.
How is Achilles Tendinitis diagnosed?
Doctor will conduct a thorough physical examination in which he will verify symptoms like swelling along achilles tendon, the point where maximum tenderness is experienced, and your ability to flex the ankle. X-rays of the ankle will be examined by the doctor to ascertain which part of the tendon is damaged. MRI scan in which the amount of damage caused to the tendon can be assessed will be necessary so that the need for surgical approach can be decided by the surgeon.
What are the Non Surgical Procedures for Achilles Tendinitis?
Non surgical treatment options have been found to be very effective in relieving pain and swelling caused by achilles tendinitis. But it takes a long period of two to three months for complete recovery from the symptoms. If the treatment was started after some months delay, the recovery period may extend to six months.
Rest
The first step in non surgical treatment is to provide complete rest to the achilles tendons. This will not be practically possible in many cases. In such cases at least the high impact activities like running etc has to be avoided and slow impact activities like walking can be substituted.
Ice
Applying ice over the swollen achilles tendon has been found to be very effective in relieving from the symptoms like pain and swelling. An ice piece can be rubbed on the tendon for about 20 minutes or so taking care to avoid the numbness due to continued icing. This process can be repeated many times.
Non steroidal anti inflammatory medication: Anti inflammatory drugs like ibuprofen etc can be taken continuously which will reduce the pain and swelling. But continuing this medication for a period exceeding one month has to be done under medical supervision only.
Exercise
Exercise to strengthen your calf muscle taken under controlled conditions can help to improve the functioning of the calf muscles and consequent reduction of stress on the achilles tendons.
Physiotherapy
Physiotherapy has been found to be extremely useful in controlling the symptoms of achilles tendinitis. It is more effective in non insertional tendinitis than in insertional tendinitis.
Eccentric strengthening Protocol
These are a set of exercises in which the contraction of a muscle is made use of to strengthen the muscle. If these exercises are done under proper guidance it can be very helpful in bringing back normalcy to damaged achilles tendon. If they are not done properly it can cause further damages also. So this type of exercise has to be practiced under the supervision of a physiotherapist and only after getting familiar with the technique one can practice this at home. Bilateral heal drop and single leg heal drop are two other exercises which have been found to be very effective in restoring the strength of the damaged achilles tendons.
Cortisone injections
Cortisone injections are very powerful steroid injections which are found to be very effective in getting relief from the symptoms of achilles tendinitis. But they are not usually prescribed by doctors as they can cause rupture of achilles tendons in some cases.
Supportive shoes
Shoes with soft material at the back of the heel or with a heel lift have been found to be very useful in reducing the stress on damaged achilles tendons.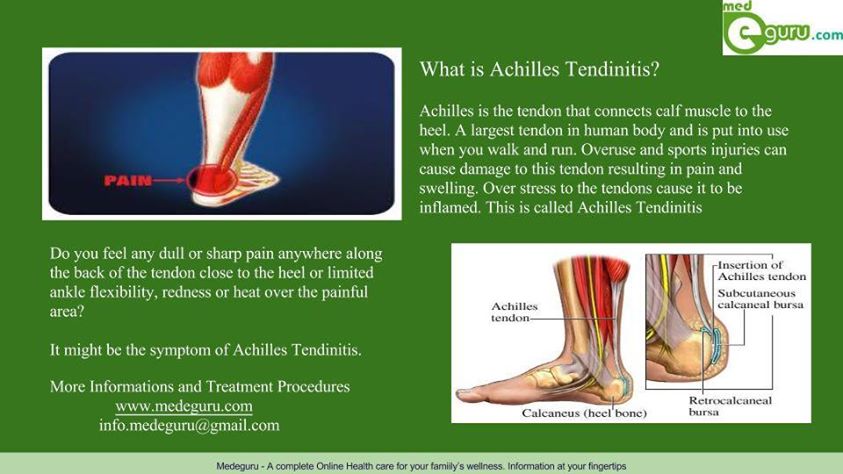 What are the Surgical Procedures for Achilles Tendinitis?
Surgical procedure will be suggested by the surgeon only if conventional treatments taken for a period of about one month has not yielded any satisfactory results.
Gastrocnemius recession
This is a procedure used to lengthen the calf muscle. This procedure can be done as a traditional open surgery or as a laparoscopic procedure. Lengthening of calf muscle can reduce the stress on the achilles tendon.
Debridement and repair
This procedure is done when the damage in the tendon is less than 50%. In this procedure the damaged tendon is removed and the remaining parts are stitched together. Bone spurs are also removed in insertional tendinitis. After this surgery most patients are allowed to walk within two weeks with the support of a removable cast or boot.
Debridement with tendon transfer
When the damage to the tendon is more than 50 % this procedure is followed. In this procedure the tendon that helps the big tow to point downwards is transferred and attached to the heel to strengthen the damaged tendon.
What is the recovery time for Achilles Tendinitis?
Recovery period depends upon the severity of the damage caused to the tendon. In most cases good recovery is obtained within a reasonable period. But in some cases the patient's may not be able to return to more active activities like running and taking part in sports etc.
Orthopedic Solutions from our Doctors and Hospitals

Achilles Tendinitis treatment in DelhiAchilles Tendinitis treatment in ChennaiAchilles Tendinitis treatment in PuneAchilles Tendinitis treatment in MumbaiAchilles Tendinitis treatment in BangaloreAchilles Tendinitis treatment in KolkataAchilles Tendinitis treatment in HyderabadAchilles Tendinitis treatment in KochiAchilles Tendinitis treatment in AhmedabadAchilles Tendinitis treatment in Surat