What is ankylosing spondylitis?
Ankylosing spondylitis is an inflammatory disease that affect the vertebrae. It causes some of the vertebrae to fuse together. As a result, flexibily decreases in spine. It also causes breathing difficulties if affected to the ribs. The condition mostly affects men than women. It cannot be cured completely. Treatments are meant to decrease the pain and other difficulties of this condition.
What are the symptoms of ankylosing spondylitis?
The symptoms may start from the early adulthood itself. Stiffness in the hips and lower back )especially in the morning) and pain are the main symptoms of ankylosing spondylitis. These symptoms may get worse day by day. It may even stop at irregular intervals. Symptoms are usually seen in these areas:
The hip and shoulder joints

The vertebrae in the lower back

The cartilage between the ribs and breastbone

The joint between the pelvis and the base of the spine

The place where the ligaments and tendons attach to the bones
If an individual notices any of these symptoms, get it to the notice of the physician for adequate medical care.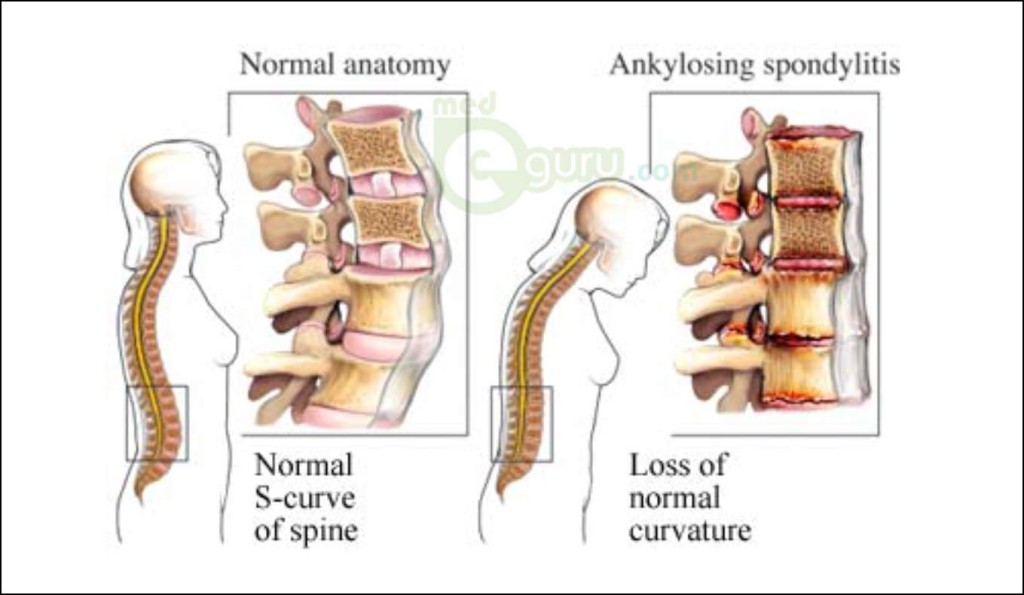 What causes ankylosing spondylitis?
Experts are not sure about the exact cause for ankylosing spondylitis. However, certain genetic features seem to increase the risk for developing this condition.
How the condition is diagnosed?
The doctor will conduct a physical examination to check for the symptoms. He/she may also suggest for certain imaging tests like X-rays, MRI and other lab tests to identify ankylosing spondylitis.
What are the treatments for ankylosing spondylitis?
The main goal of the treatment is not cure. The treatment is designed to relieve the symptoms like pain and stiffness. Some treatments even aim to prevent further risks such as spinal deformity. The treatments should be taken before it causes any irreversible damage to the joints. Medications, therapies, and surgery are some of the treatment or disease management options for ankylosing spondylitis. Nonsteroidal anti-inflammatory medications will be helpful for the condition. Physical therapies are good to relieve the pain and other discomforts. It will also help to improve the range of motion of the joints. However, most cases require surgery. Patients with severe pain or joint damage will necessarily need surgery. Surgery is also recommended when the hip joint is severely damaged and seeks a replacing.
Orthopedic Solutions from our Doctors and Hospitals

Ankylosing Spondylitis Doctors in DelhiAnkylosing Spondylitis Doctors in ChennaiAnkylosing Spondylitis Doctors in PuneAnkylosing Spondylitis Doctors in MumbaiAnkylosing Spondylitis Doctors in BangaloreAnkylosing Spondylitis Doctors in KolkataAnkylosing Spondylitis Doctors in HyderabadAnkylosing Spondylitis Doctors in KochiAnkylosing Spondylitis Doctors in AhmedabadAnkylosing Spondylitis Doctors in Surat