A pain around the teeth is commonly referred to as toothache. It is one of the most common problems among people at all ages. Poor oral hygiene is the main problem that causes toothache.
Other causes include:
Tooth decay
Chewing on hard foods
Abscessed tooth
Damaged filling
Tooth fracture
Infected gums etc.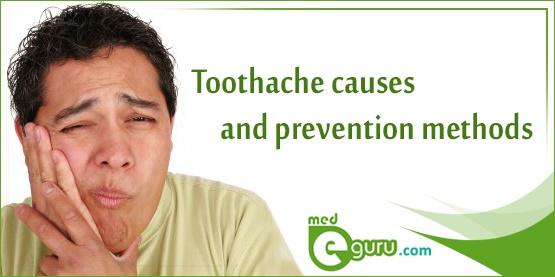 Too much pressure on tooth may inculcate toothache in some people. An individual may experience sharp throbbing and consistent pain around the tooth. Other symptoms of toothache include:
Swelling around the tooth
Fever
Headache
Soul smell and taste etc.
                    First you should visit the dentist when you have toothache. If the pain severe, you should immediately seek the help of your dentist. He/she will give medications to lessen the pain temporarily. After that, the doctor will try to find the cause and according to which plan the treatment. During diagnosis, the dentist will conduct a physical exam. He/she will ask for your previous medical history. The doctor will also ask about the pain. After examining the teeth, gums, jaws, tongue, throat, ear, nose and neck, he/she will also suggest for an x-ray and some other tests if required.
   Treatments for toothache may vary according to the cause. If the toothache is a result of the dental cavity, the doctor may suggest for a dental filling or tooth extraction. If the infection has affected the tooth nerve, root canal will be the best treatment option to cure it. A photo-therapy and cold laser may also be used to reduce pain and swelling.
   Preventing toothache is very simple, for which you only have to follow good oral hygiene practices such as:
Regular brushing
Using fluoride contained toothpastes and mouthwash
Regular flossing
Visiting the dentist once in every 6 months
Maintaining a healthy diet etc.
Dental Treatments from our Doctors and Hospital
Toothache Treatment in KochiToothache Treatment in MaduraiToothache Treatment in ChennaiToothache Treatment in New DelhiToothache Treatment in BangaloreToothache Treatment in HyderabadToothache Treatment in SecunderabadToothache Treatment in MumbaiToothache Treatment in Greater NoidaToothache Treatment in AhmedabadToothache Treatment in Whitefield.