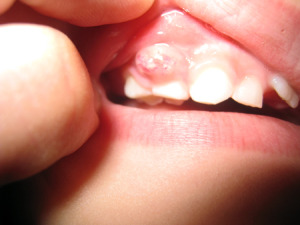 Bacterial infection causes a pocket of liquid material (pus) which is known as tooth abscess. It may appear at different parts of the tooth. Periodontal abscess occurs in the gums, near to the tooth. Cavity may sometimes cause abscess without proper care. Injuries that affect the teeth may also cause tooth abscess. Signs and symptoms of tooth abscess may include:
Severe toothache
Fever
Swelling on the face and neck
Sensitivity
Pain while chewing or biting
Swollen lymph nodes under the jaw or in the neck
Foul smell if the abscess ruptures
    Bacteria that accumulate in the mouth will enter in the tooth through a dental cavity. This will cause inflammation and swelling on the tip of the tooth root. When this bacteria invades the dental-pulp (the innermost part of the tooth), it contributes to develop tooth abscess. There are certain factors which may increase the risk for developing tooth abscess. It may include:
Poor oral habits
Tooth decay
Improper diet
Increased intake of sugar contained food items
      Tooth abscess is a condition that requires immediate care and treatments. It can't be cured without treatment. The dentist will examine your teeth after analysing the symptoms and signs. After that, he may suggest for certain tests like X-ray. Treatments include:
Pulling the affected tooth; if necessary
Antibiotics to stop the infection
Rinsing the mouth with warm salt water
Over-the-counter pain relievers
           You will have to follow good oral practices if you need to prevent tooth abscess. Good oral practices include the following:
Regular brushing
Using fluoride contained toothpastes and mouthwash
Regular flossing
Visiting the dentist once in every 6 months
Maintaining a healthy diet etc.
Dental Treatments from our Doctors and Hospital
Tooth Abscess Treatment in KochiTooth Abscess Treatment in MaduraiTooth Abscess Treatment in ChennaiTooth Abscess Treatment in New DelhiTooth Abscess Treatment in BangaloreTooth Abscess Treatment in HyderabadTooth Abscess Treatment in SecunderabadTooth Abscess Treatment in MumbaiTooth Abscess Treatment in Greater NoidaTooth Abscess Treatment in AhmedabadTooth Abscess Treatment in Whitefield.