Oral health is an integral part that determines one's overall health. Studies say that oral diseases are linked with other health problems like stroke, diabetes, heart diseases, pregnancy complications etc. The main risk factors that affect the oral health include:
Poor oral hygiene

Unhealthy diet

Tobacco use

Alcohol intake etc.
Neglecting good oral habits will lead to troublesome issues such as infections, root cavities, gum diseases, oral cancer and various other health issues. These problems may have a great impact on a person's mental as well as physical well-being. So, it is important that to treat them as soon as possible. Following healthy dental habits will help you in leading a healthy life.
Importance of Oral Health
Oral health always plays a vital role in an individual's life. Apart from keeping your smile attractive, it has something to do with the overall health. In short, it clearly conveys the fact that oral health has a significant impact on the quality of life of people.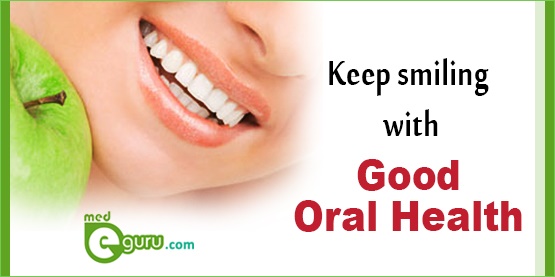 Oral cavity also known as mouth cavity, is the first section of the mouth. It is considered to be the first portion of the digestive tract. 
The oral cavity is the first part of the digestive tract, which consists of the mouth and the structures enclosed within it. Any disease afflicts the oro- dental apparatus is bound to have severe effects on the general health of the individual, apart from creating aesthetic and functional problems.
  Common Oral Diseases
Tooth decay

Periodontal or gum diseases

Toothache

Facial pain

Mouth cancer and

Throat cancer
To prevent these diseases, one should follow good oral habits. It includes basic oral health habits such as brushing, flossing, seeking professional help in common intervals. Compromising these may inculcate dental problems in an individual. Other factors that may lead to poor oral health include:
Tobacco intake

Alcohol consumption

Unhealthy diet etc.
Symptoms of periodontal diseases may include swollen gums, gum bleeding, infection in the mouth etc. If left untreated, periodontal disease may cause severe problems such as bone and tissue loss. Periodontal disease may also increase the risk of developing other health conditions such as heart diseases, respiratory diseases, stroke, pregnancy complications etc.
What are the issues that poor oral health can cause?
Reports suggest that, there are a large number of people who suffer from oral and facial pain. Gum infections are the main problem which causes such issues. These eventually ends up with tooth loss. Tooth infection may not always be a minor problem as many of us think. It can affect major organs of the body! Periodontal diseases or gingivitis has become one of the most common health issues in people.
Poor oral health may also pave way for issues such as oral cancer, skin cancer, cervical cancer etc. It may also affect the digestion process as it begins with the physical and chemical activities in the mouth. Such digestion problems may lead to Intestinal and Irritable Bowel Syndrome etc.
Is it necessary to have oral checkups every 6 months?
The mouth tissues can reflect symptoms of other health conditions and problems. Apart from maintaining the oral health and hygiene, oral examinations can also help to identify other health problems in their early stages of development. Dry mouth, swollen gums, mouth ulcers etc. is interrelated to diseases such as cancer, leukemia, heart diseases, kidney diseases, diabetes etc. A dental check-up in every six months can help you in finding your overall health status.
What are the things that a dentist does during a dental check-up?
He/she will watch for dental issues and symptoms. The doctor may also check for other health issues that are related to the oral health. The examination also intends to check-up on poor oral hygiene, inadequate nutrition, improper jaw alignment, growth and development issues etc. 
Dental Treatments from our Doctors and Hospital
Dental Check Up in KochiDental Check Up in MaduraiDental Check Up in ChennaiDental Check Up in New DelhiDental Check Up in BangaloreDental Check Up in HyderabadDental Check Up in SecunderabadDental Check Up in MumbaiDental Check Up in Greater NoidaDental Check Up in AhmedabadDental Check Up in Whitefield