Oral Herpes Simplex
     It is a kind of mouth infection caused due to the virus called Herpes simplex. They usually appear as small, fluid-filled blisters seen around the lips or inside the mouth. Oral herpes are also known as cold sores. Oral herpes is contagious and it can be spread through skin-to-skin contact or by sharing things. During the first stages the virus will not be that active and with the passage of time it becomes active. As a result, the sores or herpes develops.
      Oral herpes may not show symptoms during the first stage. The condition goes unnoticed during this primary stage. Still, it may show some symptoms and the patient may feel unwell. Primary infection is most commonly seen among children under five. Symptoms of a primary oral herpes infection are: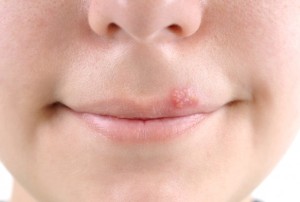 Sore throat and swollen glands
Bad breath
Blisters inside the mouth
Swollen and painful gums
Dehydration
An increased amount of saliva in the mouth
Blisters on the border between the lip and the surrounding skin
Feeling generally unwell with flu-like symptoms such as a fever and headache etc.
             The infection makes it difficult to eat and drink. The doctor will confirm whether it is oral herpes or not through various diagnostic methods and tests. Main test include viral culture or Tzanck test of the skin lesion. In order to reduce the pain and discomforts, the dentist will prescribe antiviral medication and shortens the course of symptoms. In order to prevent the spread of virus, you can use a mild antiseptic soap to wash the blisters. Pain can be reduced by applying ice on the infected area.
      In about 1-2 weeks, the lesions will disappear. It can be dangerous if it re-occurs near the eye. This should be immediately reported to your dentist. Spreading the infection near the eye may even cause blindness. People with oral herpes, cold sores or the lesions should try not to spread the virus by avoiding direct contact with unaffected people. Try not to share items like towel, lipstick etc. with others. Too much sun exposure can make the condition more problematic and it should be avoided. Oral sex can also pass the infection to your partner.
Dental Treatments from our Doctors and Hospital
Oral Herpes Treatment in KochiOral Herpes Treatment in MaduraiOral Herpes Treatment in ChennaiOral Herpes Treatment in New DelhiOral Herpes Treatment in BangaloreOral Herpes Treatment in HyderabadOral Herpes Treatment in SecunderabadOral Herpes Treatment in MumbaiOral Herpes Treatment in Greater NoidaOral Herpes Treatment in AhmedabadOral Herpes Treatment in Whitefield